Golf Cart Gurus – 3rd Amazing Race
May 28 @ 12:00 pm

-

6:00 pm

$20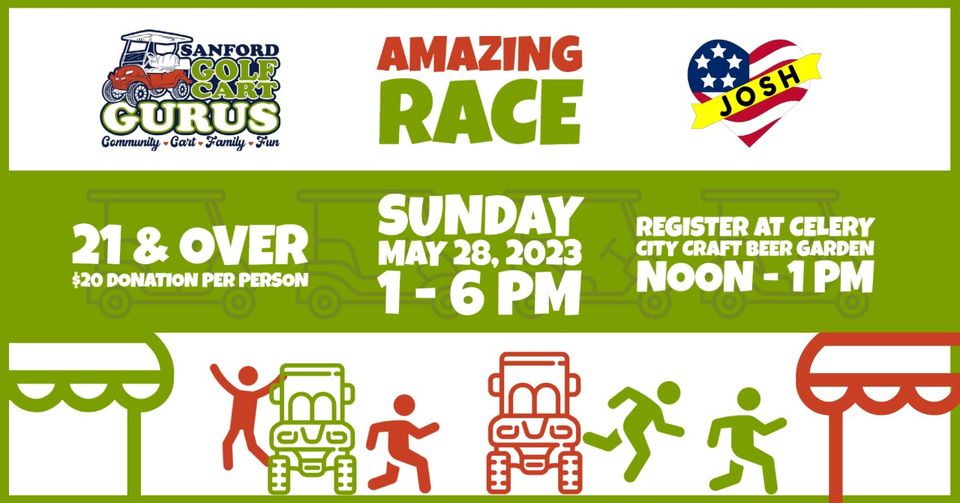 Registration: 12:00 pm to 1:00 pm Celery City, 114 S. Palmetto Ave, Sanford, FL
Race starts: 1:00 pm! Finale is at 6:00 pm at George's Tavern, 1011 S. French Ave, Sanford, FL
What is the Amazing Race? Teams will consist of 2 people. The donation to participate is $20 per person. Larger golf carts are welcome to enter more than one team.
If you choose to have more than 2 players on your team, only 2 people on the team will be allowed to participate in each competition. They do not have to be the same 2 players at every competition. Each of the four players will donate $20 to participate.
Go around the world in "Sanford" to complete in unusual challenges, tasks, puzzles and obstacles at 13 of our favorite local businesses.
There will be NO food or alcohol challenges.
Trophy and prizes for 1st place, best challenge, cart costume contest & more!
Please come together as a community and join us: golf carts, bicycles, motorcycles & pedestrians are welcome! For a day of fun filled games, challenges, tasks, puzzles, and obstacles too! What better way to spend your Sunday than Sanfording?!
Georges Tavern- America 1011S French Ave (golf cart entrance on 11th street)
Celery City-Scotland 114 S Palmetto Ave
West End – Mexico 202 S Sanford Ave
Hollerbach's – Germany 205 E 1st St
Throwbacks- Ireland 418 Sanford Ave
Buster's Bistro – Belgium 300 S Sanford Ave
The Basin – Brazil 212 W 1st Street
WopsHops Brewing Co- Italy 419 S Sanford Ave
Kenscoins- Ukraine 200 S Park Ave
Sanford Tavern – England 119 S French Ave
1st Street Lounge – Canada 301E. 1st Street
The Yardery-Australia 415 East 4th Street
Dees Brothers-The Netherlands 210 S Magnolia Ave
Related Events