Master Mentalist Steve Nelson Presents: Viewer Discretion Advised
May 26 @ 7:30 pm

-

11:30 pm

$50 – $75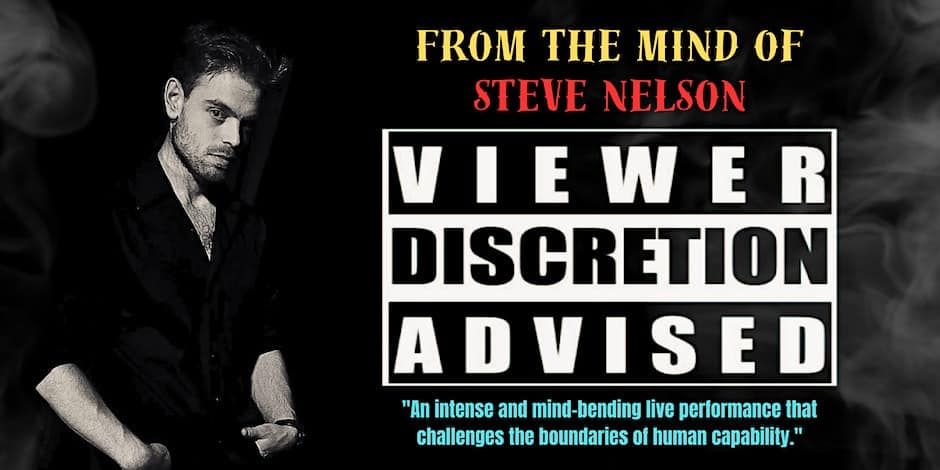 Get ready to enter a world where the limits of human capability are shattered! On May 26th, prepare to be left astounded and breathless by a live performance like no other.
As a prelude to the main event, you'll be treated to the mesmerizing table-side magic of world-renowned sleight of hand artist Michael Flanagan.
Viewer Discretion Advised is not just any ordinary show – it's an immersive journey that transcends the limits of physical and mental boundaries.
Master Mentalist Steve Nelson will showcase breathtaking stunts, mind-bending illusions, and ancient forbidden arts that have been hidden from the world for centuries.
But be warned – this show is not for the faint of heart. With mature language, crude humor, sharp objects, bondage, and deep psychological analysis that will challenge your very perception of reality, Viewer Discretion Advised will take you on a journey like no other.
Join Steve on an extraordinary adventure that will make you question everything you thought you knew about human potential. Every member of the audience will play a pivotal role in this unforgettable experience.
Get ready to have your mind blown and your deepest secrets exposed. Viewer Discretion Advised will leave you on the edge of your seat, breathless, and craving for more.
For those seeking the ultimate experience, the VIP package includes an exclusive 45-minute session with Steve himself, where you'll get a private, up-close encounter and a personally signed copy of his latest book.
Don't miss out on the most profound, awe-inspiring, and unforgettable live show of your life! As one reviewer raved, "Viewer Discretion Advised is an extraordinary, thought-provoking, and exhilarating experience that will stay with you long after the curtains close."
Get your tickets NOW and brace yourself for an intense ride that will leave you speechless!
Related Events